Unstoppable Domains Reaches Unicorn Valuation With $65M Series A Round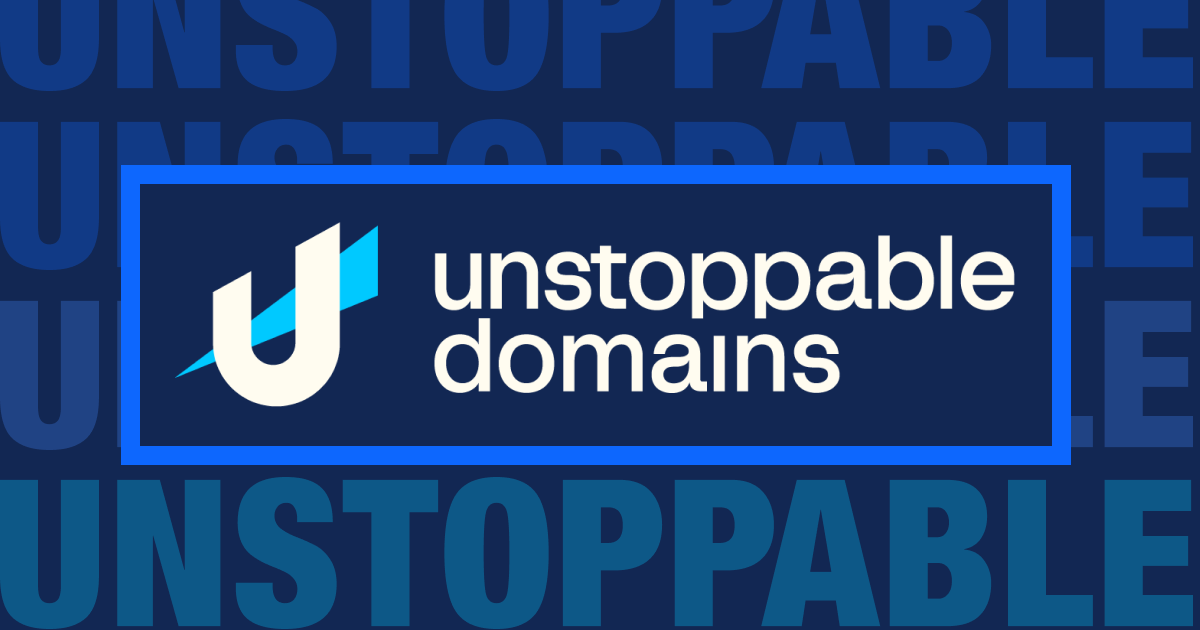 Unstoppable Domains, a Web3 service that provides NFT-based domain names for crypto wallets and websites, announced today that it has reached a $1 billion "unicorn" valuation following a $65 million Series A funding round.
Pantera Capital led the round, which also included Mayfield, Alchemy Ventures, Redbeard Ventures, Polygon, CoinGecko, OKG Investments, and others. Previous investors Draper Associates and Boost VC also participated.
Unstoppable Domains founder and CEO Matthew Gould said that "everyone is excited" about reaching unicorn status, and that the company worked through the so-called crypto winter of 2018 and 2019 to get there. He did, however, warn his team that bringing in this type of investment is a serious matter.
"When you take on funding, you take on a lot of responsibility," he said. "You have one day to celebrate and take the victory lap, and have a glass of champagne—and then the next day, you get right back to work."
Unstoppable Domains previously received $6.9 million in venture capital funding over multiple rounds, including a Series A in 2019. However, Gould said that all previous investment is now considered part of its seed funding, and he attributed previous labeling to the startup's lack of a public relations team at the time.
Unstoppable Domains, according to Gould, has registered more than 2.5 million crypto domain names to date, including extensions such as.crypto, .bitcoin, .nft, .blockchain, and.dao. Registration costs $5 per domain and can cost hundreds of dollars; the company claims to have sold more than $80 million so far.
Each Unstoppable Domain is minted as an NFT asset on Polygon, an Ethereum scaling platform that allows for faster, cheaper, and more energy-efficient transactions.
An NFT is a blockchain token that represents ownership of a specific item, in this case a Web3 domain name. Once minted, the NFT is kept in the user's possession in a crypto wallet, and there are no renewal fees or ongoing maintenance fees to keep ownership of the Unstoppable Domain. Users do not have to pay any gas fees when creating a domain on Polygon.
This last point distinguishes the Ethereum Name Service (ENS), a decentralized service that sells NFT-based.eth names that can be linked to Ethereum wallets. ENS requires users to pay for a predetermined number of years of service upon minting and then renew the name in order to maintain service, as well as pay Ethereum network gas fees.
Gould does not consider ENS or other similar services (such as the Solana Naming Service) to be competitors in the sense that they are all working to improve crypto accessibility and advance the concept of digital ownership. "We support anything that contributes to a world where people own their digital identity and digital property online," he said.
Unstoppable Domains has over 300 partners who support its domains, including exchanges (such as Coinbase and Blockchain.com), crypto wallets (Rainbow), web browsers (Brave), and others.
It is also expanding its focus on decentralized identity, launching a Login With Unstoppable feature in January. Gould sees a massive potential audience for crypto identity ownership in the future.
"If we're correct that everyone on the planet will own crypto, that means we'll have billions of registered NFT domains just for the simple use case of people sending cryptocurrency back and forth," he said.
Gould stated that it has serious implications for online reputation, with the ability to track negative behavior (such as scam propagation) from users across various platforms, in addition to allowing users to control their respective digital identities with a crypto wallet and NFT domain.
"There's a big disconnect between the way that we interact in the real world and the way that we interact online," he said. "The way that we interact online is usually not as nice as the way that we interact in the real world, and that's because you just aren't able to bring your full self with you online."
Gould used the example of his father being scammed when attempting to buy football tickets online, claiming that the scammer could easily move to another centralized, siloed ecommerce platform and continue such schemes. However, he believes that with an NFT-based online reputation system, such actions could be tracked across platforms.
"We think that's actually going to elevate the digital conversations that we have in our digital spaces to be more like the real world," said Gould. "The long-term vision for Unstoppable Domains—and I think for anyone building NFT domains or blockchain-based naming systems—is really around establishing online, digital reputation."
Source: Decrypt