2022: Top 7 Small Businesses To Start in Australia
Approximately 98.5% of all firms in Australia are small businesses, and they employ 44% of the country's workers. The Australian government presently offers a variety of incentives and privileges to small businesses to promote their creation and the survival of already existing small enterprises, particularly during the Covid-19 pandemic. Therefore, choosing a business idea and forming a company in Australia would be ideal at this moment.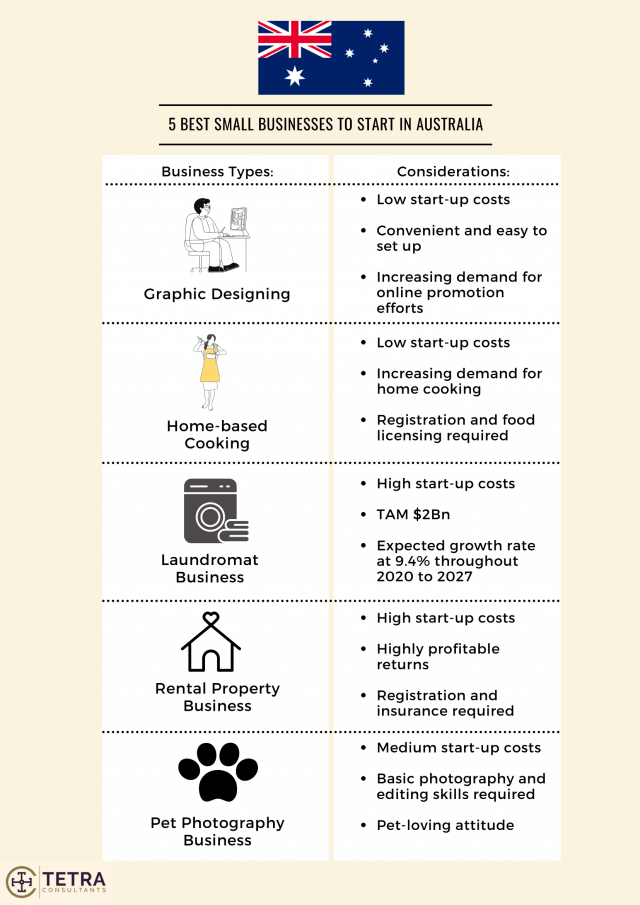 #1 E-commerce Business:
Over the past few years, e-commerce has continued to grow in popularity. An increased push towards e-commerce has been brought on by the Covid-19 epidemic. E-commerce sales in Australia are expected to expand at a compound annual growth rate of 8.9% in 2021. As a result, e-commerce has seen an increase in demand.
Additionally, less capital is needed to start an online store, which could make it easier and less expensive to launch a firm. Depending on their expertise and the need in the market, the business owner could choose the good or service to offer. These companies are able to meet a variety of clients' needs. Depending on the owner's skill set and customer demand, the shop may sell a variety of goods.
#2 Agriculture and related business:
A diverse agriculture, fishing, and forestry industry exists in Australia and has grown at a rate of 7% during the previous years. Additionally, although having a significant impact on the world, Covid-19 did not have a significant impact on this business, demonstrating the industry's resilience. This is because consumers' preferences for food have recently changed from expensive items like wine and seafood to basic foods that can be eaten at home.
As a result, you can launch a firm in this sector to benefit from the rising demand for agricultural goods and allied goods. Small enterprises in Australia account for 75% of the industry's overall value addition.
#3 Laundromat Business:
An estimated $2 billion in gross revenue is generated by the laundry and dry-cleaning sector each year, and this sector is still expanding at a rate of 1.6%. As a result, the company can take a cut of this income by opening a laundromat.
This business sector is also very convenient and profitable. The majority of laundromats in Australia are self-service, which eliminates the need for additional labor expenses. Additionally, you wouldn't have to be there in person, which would free up your time to be spent in other ways.
#4 Food Services:
The food and beverage sector is expected to develop at a rate of 2% in Australia, reaching a projected value of $4.5 trillion. The government has imposed limitations as a result of the Covid-19 outbreak, including social isolation and lockdowns. Restaurants and bars have been impacted by this. However, the majority of these establishments have changed to offer services like takeout, home delivery, and more.
Small businesses make money in the food and beverage sector, and they also produce 38% of the sector's output.
#5 Professional Services:
With $173 billion in annual revenue, Australia's professional services sector is still expanding. Businesses may offer a variety of professional services, such as consulting, market research, advertising, and public relations. You can choose the kind of service you want to offer to customers and businesses and profit from this expanding industry depending on your knowledge base and skill set.
#6 Construction:
In 2021, the construction industry is expected to earn $360 billion in sales and expand at a 2.4% yearly rate. Carpentry, waterproofing, decorating, and air conditioning services are all included in this industry. According to your skill set, you may want to provide consumers services. Small enterprises make up the majority of this industry, accounting for 57% of its overall income.
#7 Rental, Hiring, and real estate:
This sector's gross profit reached almost $6.5 billion in the three months that ended in September 2020, and it will keep rising. This industry is solid because not everyone can purchase pricey products, thus they might rent them out for a while. Depending on the types of rental services you want to offer—renting of cars, equipment, apartments, etc.—it is quite simple to get started. The prices differ based on the service you want to offer as well.
When determining which business to start, there are numerous ideas available. The list above is not all-inclusive. But you must also consider your level of expertise, your capacities, and the amount of funds you are prepared to commit. You base your decision about the type of business you want to start on this.
Source: Tetra Consultants