Jeff Bezos: The Inspiring Story of Amazon's Founder's Success
Jeff Bezos is one of the richest persons on the planet, with a net worth estimated by Forbes to be $136.1 billion at the time of writing. Bezos launched Amazon in 1994 out of his garage in a suburb of Seattle, Washington, and the majority of his fortune comes from his stock in the company. Innovation, ingenuity, and a lot of work are the driving forces behind Amazon's success and, consequently, that of its creator. Let's examine in detail how the e-commerce behemoth and its founder attained success.
Early Life: Bezos Before Amazon
Jacklyn and Ted Jorgensen, two adolescent parents, gave birth to Jeff Bezos in Mexico. Bezos' parents divorced soon after he was born, and his mother later wed Miguel Bezos. Bezos worked on his maternal grandparents' ranch in Texas for a large portion of his early years before developing a keen interest in computer technology as he grew older.
Bezos earned degrees in computer science and electrical engineering from Princeton University in the middle of the 1980s. After turning down job offers from Intel and Bell Labs, he joined startup Fitel.
Bezos had a six-figure salary by the time he was 30 but decided to found Amazon after realizing that the web was growing at 2300% at the time.
How Bezos Founded Amazon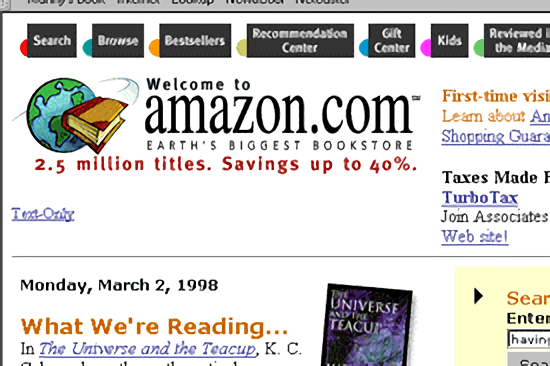 Bezos made a list of 20 prospective items that he thought may do well online after seeing the vast potential of the internet. He understood that even the biggest book stores could only hold a small portion of the virtually endless number of titles really available—a few hundred thousand books—at any given moment. The prize for Bezos was books.
In 1994, Bezos brought his concept to Seattle, a city with a sizable high-tech talent pool and adjacent to the Oregon warehouse of Ingram Book Group. Bezos rented a home in the city, started a new online book company out of his garage, and funded $1 million from friends and family.
Bezos and a group of five employees operated out of a Seattle garage for over a year while learning how to find books and building a computer system that would make Amazon.com simple to use. With more than a million books available, it billed itself as "Earth's Biggest Bookstore." Amazon.com had more than 100 workers and generated over $15.7 million in revenue by September 1996.
Barnes & Nobles quickly launched its own website after Amazon.com went live and a marketing campaign boasting that it had twice as many books as Amazon.com. However, Bezos had already increased the range of goods offered by Amazon and modified the slogan to "Books, Music, and More."
Amazon was predicted to have a 37% market share of all online retail sales in 2019 as a result of its aggressive expansion strategy. Additionally, according to companiesmarketcap.com, Amazon had a market cap of $1.105 trillion as of July 2022, ranking it as the fifth most valuable business in the world.
Why Is Amazon So Successful?
Although there are numerous factors that contribute to Amazon's success, its commitment to providing excellent customer service is often seen as the main one. Shopping on Amazon is quick and simple. Every action it does is consistent with its customer-centric ethos. It aspires to be the business that values customers the most in the entire world.
Other factors contributing to Amazon's success include:
The introduction of cutting-edge technologies like the Kindle, Amazon Alexa, and Amazon Fire TV
Even though Jeff Bezos left his position as CEO of Amazon in 2021, his name will always be associated with the e-commerce giant's ranking as one of the world's top businesses.
According to Bezos, one of the key lessons he learnt while building Amazon was "that success can come through iteration: invent, launch, reinvent, relaunch, start over, rinse, repeat, again and again," he said, adding that "the path to success is anything but straight."
Source: CEO Today