The Ultimate Guide to Using TikTok for Business in 2023
TikTok is becoming one of the most well-known social media sites, boasting one billion monthly active members from all over the world. While the platform's enormous user base may be reason enough for companies to start using it, TikTok users also spend an estimated $110 million each month, making it the highest-grossing non-gaming app.
If that persuades you to use TikTok for your company, this post will assist you with establishing yourself there. Continue reading to discover how to use TikTok for business.
Who Is a TikTok User?
You might now be hesitant to employ TikTok for your company because "Isn't it exclusively for Gen-Zers? Although the platform has a high proportion of younger users, young adults and middle-aged users find the app to be equally as popular.
25% of TikTok users are between the ages of 10 and 19, according to data. Meanwhile, 22.4% of the platform's users are between the ages of 20 and 29. Additionally, 21.7% of the entire TikTok audience is between the ages of 30 and 39.
Additionally, there are 20.3% of users who are between the ages of 40 and 49. The remaining 11% is made up of people over 50. Therefore, if your preconceived notions about the platform's audience have been preventing you from using TikTok, these statistics demonstrate that its user base is much more diversified than you might have thought.
Additionally, the portal offers more than just entertainment content (although the category is indeed popular). In addition, TikTok receives a ton of instructive and useful content from brands and influencers. Because of this, even the most improbable brands can be seen succeeding on the platform.
Of all organizations, who would have guessed that the Association of Chartered Certified Accounts would find a home on TikTok? By collaborating with celebrities like as @deafimmy, ACCA was able to shatter the stigma and engage a younger audience.
Therefore, you might want to reconsider your opinion if you believe that TikTok is the wrong platform for you due of your industry. See if there are any innovative methods to use the platform for your company by seeing what your rivals are doing.
Step 1: Creating Your TikTok Business Account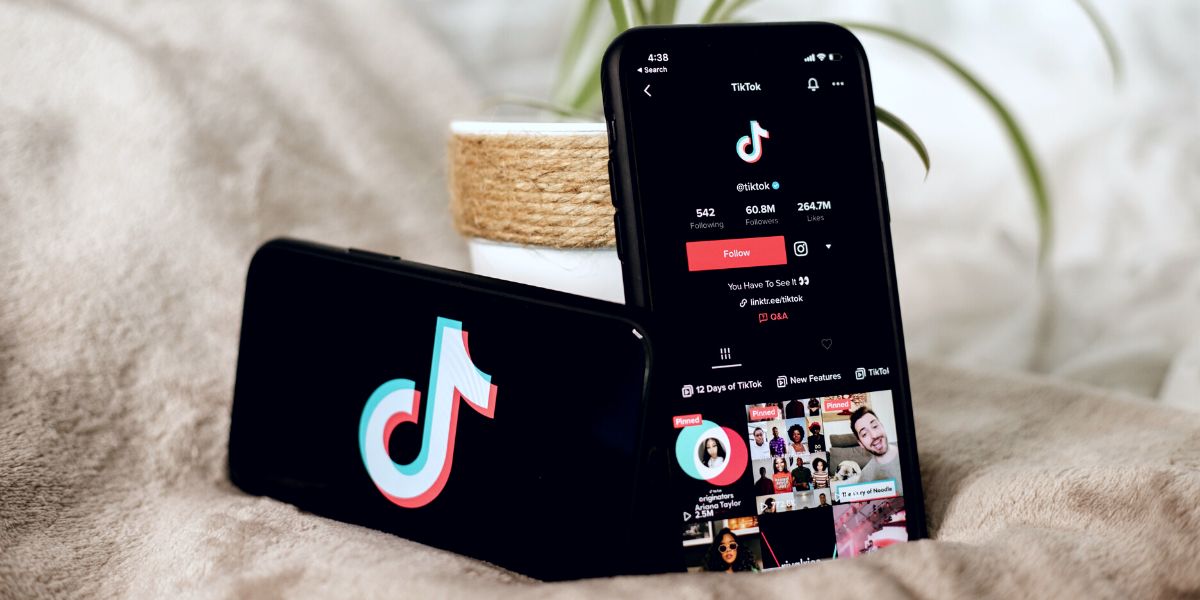 Of course, opening a business account is the first step. Download the app, then register with your phone number or email address to do this. You can also sign up for TikTok using a social media account that is linked to your business's account on those platforms.
To switch to a business account, simply click the "…" icon at the top of your "Me" page, choose "Manage Account," select the option that best describes your industry, and then click "Switch to Business Account." Now that you have a TikTok Business account, you may interact with your followers and provide material related to your company.
Step 2: Optimizing Your Profile
Having an account is insufficient if you intend to use TikTok for business. You will have the ability to edit your profile once your account is set up. This is crucial because your profile serves as a virtual storefront for your company. It is crucial that you optimize it in order for it to accurately represent your brand.
This necessitates upgrading your URL, bio, and profile picture. To help you complete this stage successfully, consider the following recommended practices:
Select a picture that best embodies your brand
Not only should your profile photo look fantastic, it should also effectively reflect your brand. Make sure your visual brand is unified and consistent across all of your social media profiles. For consumers to instantly associate your TikTok profile and your brand, you would need to use the same logo and/or colors.
For instance, Chipotle utilizes the same profile picture on Twitter and Instagram. This aids in keeping their brand image consistent.
Briefly describe your brand in your bio
You just have 80 characters on TikTok to provide a succinct description of your brand. Keep it succinct and to the point without sacrificing your brand spirit to make the most of this space. You could add your catchphrase or slogan. Or you could even include a little bio statement that fits your brand's tone of voice.
In their TikTok bio, BUXOM Cosmetics uses only three adjectives that are representative of who they are: huge, bold, and seductive. This is brief and to the point while wonderfully capturing the essence of the brand.
Think carefully about your URL
You are allowed to put one clickable URL in your profile on TikTok. Therefore, you must choose your links wisely. Depending on your objectives, you can link to your homepage, landing page, blog article, or even the download page for an app. But make sure the URL is familiar and trustworthy because this is a key element in getting people to click on your links. Additionally, it need to be clear so as not to confuse anyone.
For instance, florence by Mills adds a link to their LikeShop page on their TikTok feed so users can easily identify (and purchase) the items. The URL seems trustworthy and organized because the brand name is displayed plainly. Similar to this, you can direct visitors to your content or items by using various link in bio techniques. Here are some effective resources toward that goal:
Step 3: Understanding Your Target Audience
While your particular objective may be distinct, connecting with your audience is the major reason you're utilizing TikTok. However, you can't engage your audience if you're not producing material that speaks to them. This is why it's so important to examine your audience more closely and determine the types of material they'd be interested in.
Despite maybe being most popular among Gen-Z, TikTok has a wide range of user demographics, as we've already shown. Consider the areas where your target demographic and the TikTok user population intersect. You could also look for chances to connect with unanticipated and novel audiences. Whatever the situation, make sure you thoroughly research this target audience to learn their habits, tastes, and passions so you can develop an engaging content plan that connects.
BarkBox is very aware of who their target market is and the kinds of content they enjoy. They offer humorous animal videos on TikTok that animal lovers and pet owners would find amusing or relatable.
Step 4: Understanding How the TikTok Algorithm Works
Understanding the platform's algorithm is a key first step if you're serious about adopting TikTok for your business. Knowing the elements that affect the TikTok algorithm can help you take advantage of them and raise your profile on the platform.
This would entail adding a pertinent caption and widely used, relevant hashtags to increase visibility among the intended audience. In addition to the data on your video, such as descriptions and hashtags, user interactions are also important in affecting the algorithm.
Therefore, it's crucial that you produce material that viewers will want to engage with. In order for more individuals to see your content on their "For You" pages, the objective is to increase engagements in your area.
Utilizing well-known TikTok sounds is also a fantastic strategy to increase your visibility in the TikTok algorithm. Locate ways to use them in your videos so that viewers looking for the sound may more easily find your content.
Step 5: Scoping Out the Competition
Is TikTok a platform for your rivals? What are they doing, if yes? What kinds of content do they produce, and how involved are their followers?
It's a good idea to research your top rivals to see what works and what doesn't for them as you develop your TikTok approach. Given that they've already tried the platform, they could be a great resource of knowledge for your company.
Make sure to pay special attention to the content categories that appear to generate the most engagement. And check to see if there are any innovative techniques you could copy or be inspired by.
Step 6: Developing a Powerful Content Strategy
You can start developing your TikTok content strategy based on your study. This entails laying down specifics like the kinds of content you'll produce and how frequently you'll release new content.
Even while the platform seems to be dominated by amusement and dancing videos, useful and instructive content is equally popular. That includes films with instructions and instructions, DIYs, life hacks, guidance, etc. So, to engage your audience, find a way to incorporate these categories into your content plan. To broaden your feed and appeal to a variety of demographics, be important to maintain a balance between various content categories.
For instance, amusing and enjoyable videos like those produced by BarkBox might be excellent for increasing audience engagement. To inform and educate your customers, you may also offer tutorial videos on how to use your items effectively. This is a fantastic approach to increase interest in your brand's content and encourage repeat visits.
Consider how Le Creuset frequently posts cooking tutorial videos that include the company's cookware. Many of these films demonstrate the products in use to attest to their high quality. Others are merely intended to be aesthetically pleasant and amuse spectators.
You ought to also create a content calendar tailored to the platform. To keep a strong presence on TikTok, consistency is crucial, just as on other social networking sites. Therefore, planning and adhering to a content calendar might help you maintain the correct posting frequency and pace.
Step 7: Partnering with Influential Users
Influential TikTokers have the ability to instantly reach millions of users and turn your company into an overnight hit. A excellent strategy to immediately increase your visibility on the platform is to have the proper influencer promote your business to their audience.
Get an influencer to briefly mention your brand as part of your TikTok influencer marketing campaign. But ideally, find a technique to get them to highlight your good or service in a way that will appeal to their audience. To increase participation, you may even team up with well-known producers for a duet, ask them to use your brand's hashtags, or ask them to spread the word about your brand challenge.
Simmons, a manufacturer of mattresses, teamed up with a wide variety of TikTok influencers when they sought to leverage the platform to engage with a younger generation of consumers. The brand's #Snoozzzapalooza hashtag challenge gained awareness thanks to these well-known creators, inspiring over 2 million video submissions and generating over 6 billion video views.
Step 8: Increasing Reach and Impact with TikTok Advertising
Paying for TikTok advertising is yet another fantastic option to instantly enhance the popularity of your brand on the platform. Since this needs some investment, it's crucial to carefully set up and manage your TikTok ads in order to achieve a decent return on investment. A specific target audience and a clear, attainable aim are the first steps in this process.
Then, with these two things in mind, you can create your advertisement. Make a strong TikTok ad plan that will enable you to reach the proper audience and make an impression on them.
Step 9: Growing and Optimally Using Analytics
Finally, continuous improvement is necessary for success on TikTok. Utilize the TikTok analytics tools to monitor your success on the platform and search for areas for improvement. Utilize these tools to determine the ideal posting times and engagement metrics unique to a piece of content. Some techniques can even aid in the identification of potential influencers and the forecasting of future trends.
You can use these information to plan forward and improve your content strategy's performance. For instance, posting during a period of high engagement is likely to increase the visibility of your content.
How to Use TikTok for Your Business
It's time to start using TikTok for business now that we've laid out all the necessary steps for you to do. To get things going and increase your chances of success on the platform, start with a solid profile, a clearly defined target audience, and a strong content plan.
Source: Influencer Marketing Hub